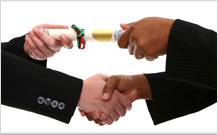 Agile Certified Professional (PMI – ACP®)
Location: Bangalore
Dates: March 29- Apr 1, 2018
Duration: 3 days
PDUs: 21
Overview
The PMI-ACP recognizes knowledge of agile principles, practices and tools and techniques across agile methodologies. This is an instructor-led course.
The objective is to understand the Agile framework and acquire the skills and knowledge to use Agile practices in projects. The course is suitable both for those yet to adopt Agile practices and those who may have different levels of Agile maturity.
The discussions will lead to a grasp of the values, principles, and practices that give Agile Software Development the potential of being a more successful software development methodology. It covers the requirements of taking the PMI-ACP certification exam comprehensively. It includes sufficient sample questions and tips & tricks for passing the exam in first attempt.
A real life case study is embedded into the course and each concept is explained using this as an example. On each day, there would be discussions, role play and module-end quizzes to not only learn agile practices but also gain an understanding of the rationale behind the same. On the last day, there would be a mock test with instructor led discussion on each question. The candidates may also attempt additional questions from our web site, with asynchronous query resolution by the instructor.