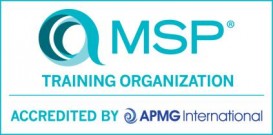 Managing Successful Programmes (MSP®)
Location: Bangalore
Dates: March 21-25, 2018
Duration: 5 days
PDUs: 35
Overview
Managing Successful Programmes (MSP®) was developed as a best practice guide on Programme Management. The guide comprises a set of Principles and a set of Processes for use when managing a programme. MSP is very flexible and designed to be adapted to meet the needs of local circumstances. MSP® represents a proven programme management good practice for the successful delivery of transformational change through the application of programme management.
MSP defines programme management as "the action of carrying out the coordinated organization, direction and implementation of a dossier of projects and transformational activities to achieve outcomes and realize benefits of strategic importance to the business".
MSP has been used and adopted within many organizations, both within public and private sectors.
GRT Consulting LLP is an Accredited Training Organization (ATO) registered with APMG for imparting foundation and practitioner certification courses for MSP®. It also provides certifications including PRINCE2®, MSP®, MoP®(for Portfolio management), Change Management, etc.
Benefits of attending the workshop
Appreciate the key differences between programme management vis-à-vis project management
Understand how successful programme management enables achievement of corporate strategic objectives
Understand the principles, processes and themes relevant for programme management
Get insights into key concepts and artifacts like programme blueprint, programme business case, transition management, benefits realization and programme closure
Enable individuals to demonstrate their level of knowledge and understanding of Programme
A globally recognized qualification
Take Foundation and Practitioner certification examinations.
Overview of the contents of the workshop
What is a programme and what is programme management?
Which are the principles governing successful programme management?
How to define the programme governance organization?
Major roles in programme management
Development of the programme vision and the programme blueprint
How to engage the stakeholders in a programme environment?
Programme planning and controlling, including linkages to project and transition planning
Business case development and updating in a programme environment
How to manage risks and issues during programme management
The concept of quality in a programme and how it is different from a project context
Transformational flow in a programme :

Identifying a programme
Defining the programme
Delivering the capability and realizing the benefits
Managing the tranches – as an overarching process
Closing a programme
How Programme office can enable successful programme management?
Foundation and practitioner mock tests and examinations
The course will have also discussion of case studies / quizzes and programme management templates to give a holistic overview to robust programme management.
MSP® is a registered trade mark of AXELOS Limited, used under permission of AXELOS Limited. All rights reserved