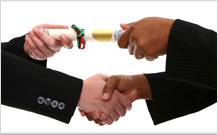 Portfolio Management Professional (PfMP®)
Location: Bangalore
Dates: March 09-11 , 2018
Duration: 3 days
PDUs: 21
Overview
PMI's Portfolio Management Professional (PfMP)® credential recognizes the advanced experience and skill of portfolio managers. The PfMP® demonstrates your proven ability in the coordinated management of one or more portfolios to achieve organizational objectives.
PfMP credential holders are responsible for the execution of the portfolio management process, communication around portfolio progress, and recommendations for action. Where project and program managers are responsible for "doing work right," this is an ideal credential if you are responsible for ensuring your organization is "doing the right work."
The broad framework of the course is based on the contents of the Standard for Portfolio Management (Third Edition), along with the guidance on Examination Content Outline (ECO), published by the Project Management Institute (PMI), USA.
The target audience for the workshop includes senior Program and Portfolio Managers, PMO heads and other Senior Managers/ Consultants who would like to have an understanding of how portfolios are planned, implemented and retuned in line with organizational strategy.
An experience of running business functions with the application of portfolios is highly desirable.
The learning objectives include:
To understand what are portfolios and what is portfolio management
To appreciate the interactions between portfolio management, program/ project management and the organizational strategy
To design and balance the portfolio
To manage the portfolio component interrelationships
To appreciate the role of the Portfolio Manager in managing the portfolios
To understand the role of PMO in effective portfolio management
To understand the transformational flow process in portfolio management