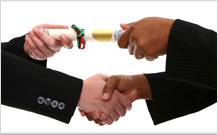 Program Management Professional (PgMP)
Location: Delhi
Dates: Feb 23-25, 2018
Duration: 3 Days
PDUs: 21
Overview
PMI's Program Management Professional (PgMP)® credential recognizes the advanced experience and skill sets of program managers. Globally acclaimed, the PgMP® certification demonstrates competency to oversee multiple, related projects and their resources to achieve the strategic business objectives.
PgMP® credential holders oversee the success of a program, grouping interlinked projects together to realize organizational objectives, not feasible to be attained by managing component projects individually.
Program Management Professional (PgMP® ) is intended for senior Project Managers and Program Managers, having hands-on experience in Program Management.
GRT Consulting offers a three day workshop for preparing the participants towards acquiring this premier certification. This workshop is aligned to the Third ( 2013) edition of the PMI Standard for Program Management , the relevant PgMP® Examination Content Outline and other relevant materials.
The Workshop is based on a case study and will also focus on imparting best practices in Program management, apart from Certification examination preparation.